The most important features at a glance.
Are you from a non EU-country?
Do you wish to intensify your learning at your own pace in a pleasant setting?
Do you need help and support for a better command of German (reading, listening, writing, and talking)?
Do you want to exchange ideas with other learners in a relaxing environment and improve your communication skills?
Then you have come to the right place. In the Learning Center we provide individual support with social and educational competence using modern learning aids and, last but not least, empathy.
We offer you
A personal first consulation.
The opportunity to study individually and with learning support.
The possibility to study in small groups.
Mobile workstations equipped with laptops and internet access
Help and support with exam preparation, e.g. A1, B1, B2, C1.
A "Language Café" where you can practice your German skills with your peers.
We offer a "Language Cafe" on the following days:
Tuesday Level A2/B1: 12:00-12:45, 13:00-13:45
Wednesday Level B1/B2: 12:30-13:30
Thursday A2/B1: 17:15- 18:00; Online: Please contact us for the Zoom ID.
You find us here:
The Learning Center is situated in Kanalstr. 3, 67655 Kaiserslautern, inside the building of the Volkshochschule (Weiterbildungszentrum, Center of Further Education).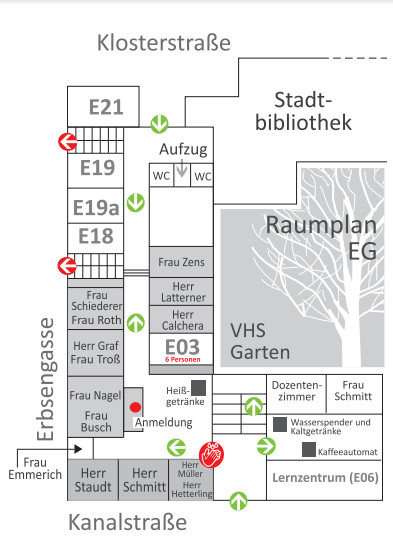 Comfortable and attractive learning environment providing state-of-the-art technical equipment
12 fully equipped mobile working stations
6 computer working places with laptops, printer/scanner, access to the internet
mobile working tables and chairs, mobile dividers
specialized library